Teeth Whitening – South Portland, ME
Brightening Your Smile and Your Life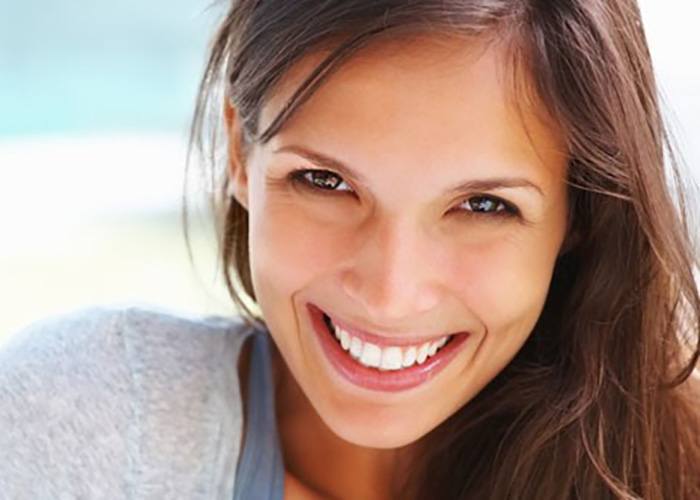 Your teeth are a source of pride and joy in your life; so, if you're met with a stained smile every time you look into the bathroom mirror, you might be starting to wonder if there are any possible solutions for addressing the issue. Fortunately, teeth whitening in South Portland can easily restore the shade of your teeth and provide your confidence with an unparalleled boost. Keep reading below to learn a little more about this incredible cosmetic service or feel free to get in touch with us to schedule a consultation.
Why Choose Mind Your Mouth for Teeth Whitening?
High-Quality Whitening Materials
Friendly & Dedicated Dental Team
Fast, Natural-Looking Results
Who Is a Good Candidate for Teeth Whitening?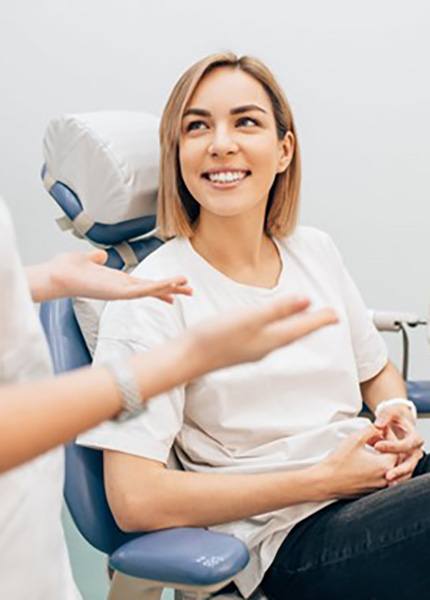 The only way to know for certain if you're a good candidate for teeth whitening is to come visit us for a consultation! Dr. Parét can inspect your smile and discuss your desired goals with you before clearing you for treatment. That said, if you're simply unhappy with the shade of your teeth, you're already likely a good candidate for teeth whitening. However, your oral health will still need to be assessed before you're able to begin your treatment; any existing issues such as tooth decay or gum disease will need to be addressed beforehand.
How Does Take-Home Teeth Whitening Work?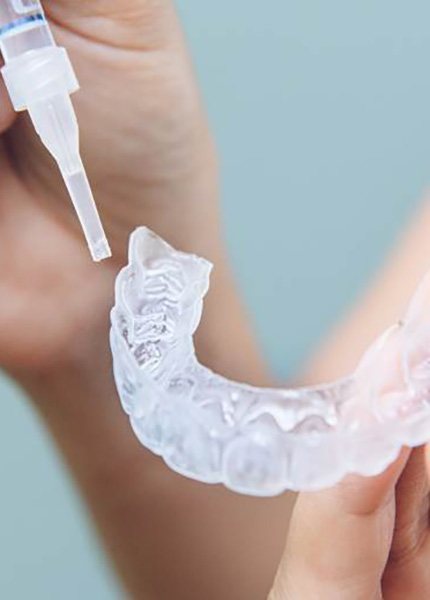 There are several types of store-bought whitening products, but none are as effective and trustworthy as what you can get from your dentist! Not only do professional-grade products offer much better results, but it's also in your smile's best interest to have a trained set of eyes overseeing your treatment process. To avoid any unforeseen complications or inadequate results, our team customizes your teeth whitening treatment to address your specific dental needs. That way, you're safe and comfortable while revamping your smile!
We're happy to offer Phillips Zoom! Day White and Nite White take-home kits that will allow you to work on your smile from the comfort of your own home. These trays are customized to fit perfectly over your teeth, and you'll need to wear them as instructed for a couple of weeks to achieve your desired results.
GLO In-Office Teeth Whitening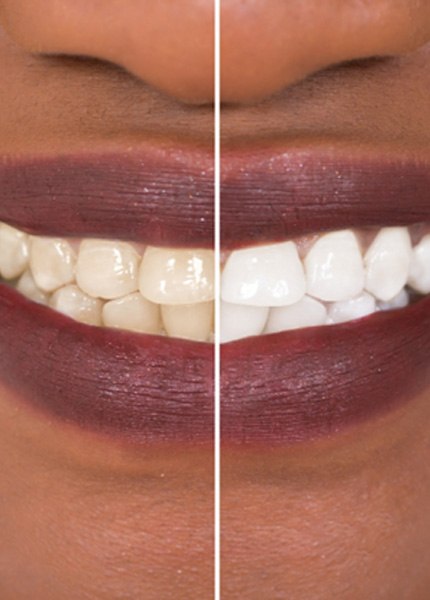 If you need a whiter smile in a hurry, the GLO Professional System has you covered! It combines a powerful bleaching solution with a special mouthpiece the patient wears after it is applied to speed up the process without harming the enamel. Typically, GLO can make the teeth five to eight shades brighter in about 32 minutes, which consists of four rounds of eight-minute applications. It's the ideal solution for people with busy schedules or those with an important date coming up quickly, such as a wedding, job interview, or big presentation at work. Plus, it causes much less sensitivity compared to other whitening systems, meaning you'll be comfortable while looking your best. With GLO, you can guarantee you feel confident no matter the situation and get everything done in less than an hour!
Tips for Maintaining Your Brighter Smile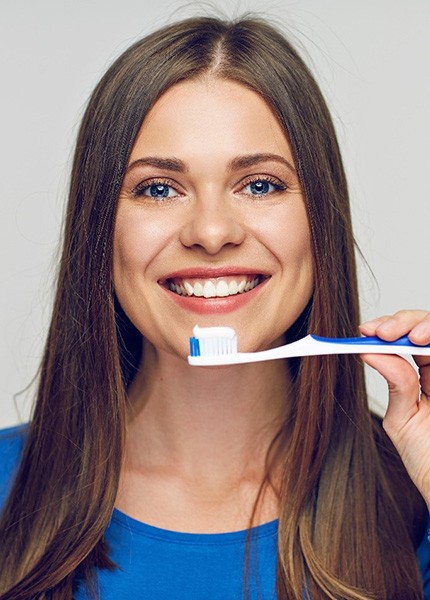 Once you've wrapped up your whitening treatment, your results can last for a few months to a few years, depending on your willingness to take care of your smile! Here are some helpful oral hygiene tips that'll preserve your new look:
Maintain a solid oral hygiene routine by brushing and flossing regularly.
Drink plenty of water throughout the day; it's the absolute best beverage for your pearly whites.
Reduce your consumption of foods and drinks that are known to cause staining.
Schedule regular preventive dental care with us!
Understanding the Cost of Teeth Whitening
It's natural to want to know as much about the cost of a particular treatment before committing to it. Teeth whitening is one of the most popular cosmetic treatments around, and it also happens to be one of the most affordable. However, it's best to know what you'll pay beforehand, so that your jaw doesn't drop when you're handed your bill! Keep reading below to learn a little more about what goes into evaluating the cost of teeth whitening in South Portland.
Factors That Affect the Cost of Teeth Whitening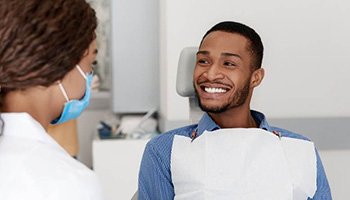 Every patient's needs are unique, which means that every treatment plan will vary. That said, in order to provide you with an accurate estimate, we'll have to consider a few different factors such as:
The severity of the staining/discoloration.
The reason for the discoloration (Age, certain medications, smoking, etc.).
Any necessary preliminary procedures, such as dental fillings or crowns.
Types of Teeth Whitening: What Do They Cost?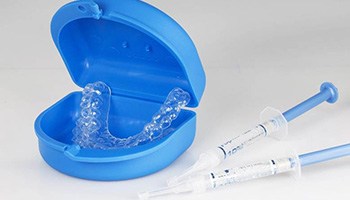 There are various teeth whitening options out there, and they all have different prices. Here's what you can expect to pay when it comes to these treatments:
In-Office Teeth Whitening – This option usually costs somewhere between $400 and $800 but can occasionally cost upwards of $1000.
Take-Home Teeth Whitening – With professional take-home kits, you can expect to pay around a few hundred dollars.
Over-the-Counter Trays – Usually, these trays are much cheaper than professional options, and are often less than $100.
Over-the-Counter Strips/Gels – This is perhaps the most affordable option out there. These packs usually cost between $20 and $40 and contain enough materials to last up to 2 weeks.
Inexpensive Teeth Whitening vs. Professional Teeth Whitening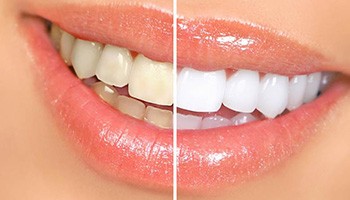 An incredibly important rule of thumb to keep in mind when considering cosmetic dentistry is that the quality of your results is clearly reflected in the amount that you pay; or in other words, you get what you pay for! With that in mind, the products used by your dentist are several times stronger than anything you can purchase yourself, and the results will absolutely show this. While professional whitening might be more expensive upfront, it vastly outperforms over-the-counter items.
It's also worth seeking whitening from a professional due to the examination they'll perform prior to clearing you for treatment; any underlying oral health issues will be identified and treated so that they don't pose a threat to your new smile.
Options for Making Teeth Whitening Affordable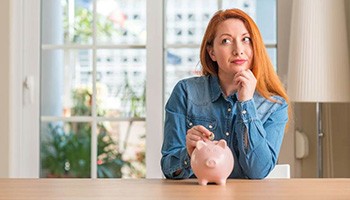 Because teeth whitening is generally considered an elective procedure, it is very rarely covered by dental insurance. But this doesn't mean you're out of luck! We're thrilled to offer financing through CareCredit that will allow you to break up the cost of your treatment into affordable, monthly installments with little-to-no interest. We're also proud to offer an in-house membership plan that'll give you access to useful discounts across numerous services! Don't hesitate to contact our team for details or assistance with navigating the financial implications of whitening your smile.
Teeth Whitening FAQs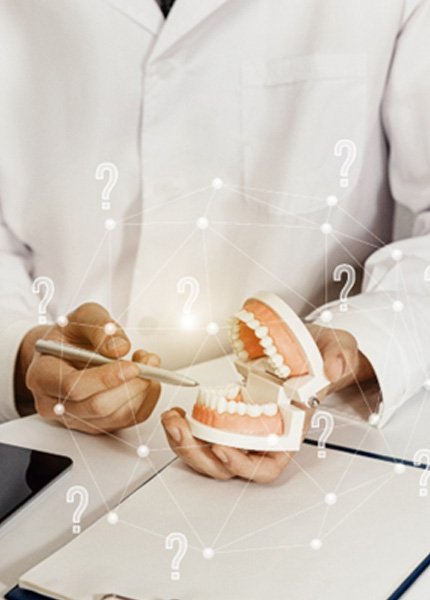 Maybe you'd like to get teeth whitening in South Portland. After all, it's sure to make your smile brighter than ever! That said, you may want to learn more about the treatment first. Some extra details could help confirm if whitening is right for you. Luckily, we at Mind Your Mouth have you covered: here are some answers to frequently asked questions about it. Please read them over to get a better feel for our whiteners. From there, you can book a visit with us and get started!
Am I a Candidate for Teeth Whitening?
If you struggle with stubborn tooth stains, you're likely a good candidate for teeth whitening. Still, there are a few things to keep in mind.
First, the best way to confirm your candidacy is with a consultation . This visit lets Dr. Parét conduct an oral exam and learn your smile goals. She and the rest of our team can work on a custom treatment plan based on her findings.
Secondly, you'll need added care if you have an untreated dental concern. Issues like gum disease would interfere with the whitening process. As such, we'll perform needed preventive care before moving forward with treatment.
Does Teeth Whitening Hurt?
You might fear that teeth whitening is a painful process. In reality, though, it's usually painless and involves no discomfort.
You see, professional whitening is entirely customized. Consequently, treatment is doubtful to cause tooth sensitivity. That alone makes it unlike certain store-bought kinds.
Of course, there are exceptions. Let your dental team know if your teeth tend to be sensitive. You can also avoid discomfort by spacing out treatment, avoiding hot drinks, and using specialty toothpaste.
Does Teeth Whitening Damage Enamel?
Contrary to rumor, professional whitening gel doesn't harm enamel. It simply removes stains from your teeth's top layer. However, the chemicals can cause problems if your teeth are marred by decay or gum disease. For that very reason, we suggest you get a dental exam beforehand. You'll never go wrong by consulting your dentist first.
As for store-bought whiteners, things are a bit iffier. Products like activated charcoal and whitening toothpaste are abrasive, causing enamel loss when used on teeth. Overuse of them, then, can expose the dentin in your pearly whites.
Does Teeth Whitening Work on Dental Crowns?
Unfortunately, no — whitening treatments don't work on dental crowns. Such restorations are artificial, so they're unaffected by bleaching gels.
Ultimately, crowns don't have microscopic pores like enamel does. This feature makes them hard to discolor, but it also means whiteners can't permeate their material. In fact, a whitening gel could weaken the bond between a crown and the underlying tooth. Should that happen, you'll face complications.
These facts don't have to keep you from treatment, though. If you dislike your crown, our team can replace it with one that suits your goals. From there, the new prosthetic will match the result of your newly-whitened smile.